No, not a spouse swap. A favorite things swap hosted by Mamarazzi over at
Dandelion Wishes
! My uhh...swapping partner (that's what I said), Anna at
Life Just Keeps Getting Weirder
. Indeed.
So I come home from work and find a big giant box. And then I start thinking,
Oh no...my box is NOT EVEN this big, should I be worried, do I have to send ANOTHER box, so I won't feel box envy?
Then I get a grip. I'm a great goodie giver. And good things come in small packages, right?
I open the box to see: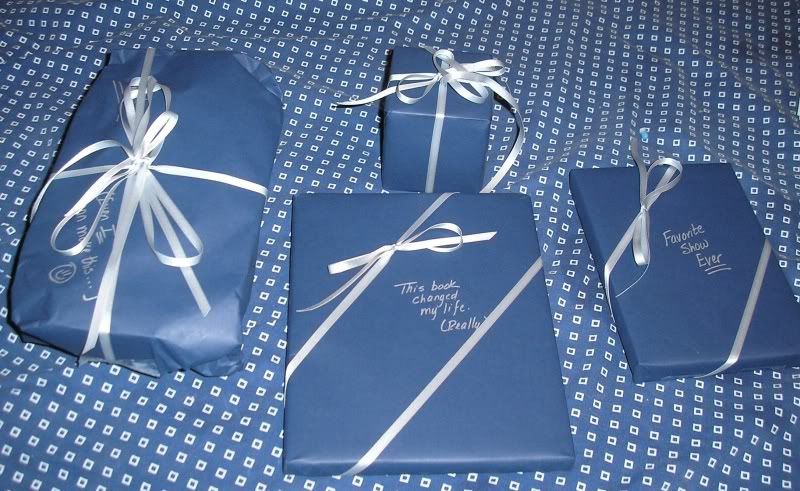 a LOT of packages. And one that smelled SO good that I wanted to eat it, wrapping, string and all. I got home late that day, and I still hadn't eaten my dinner yet.
Moving On...I tear into my packages to find...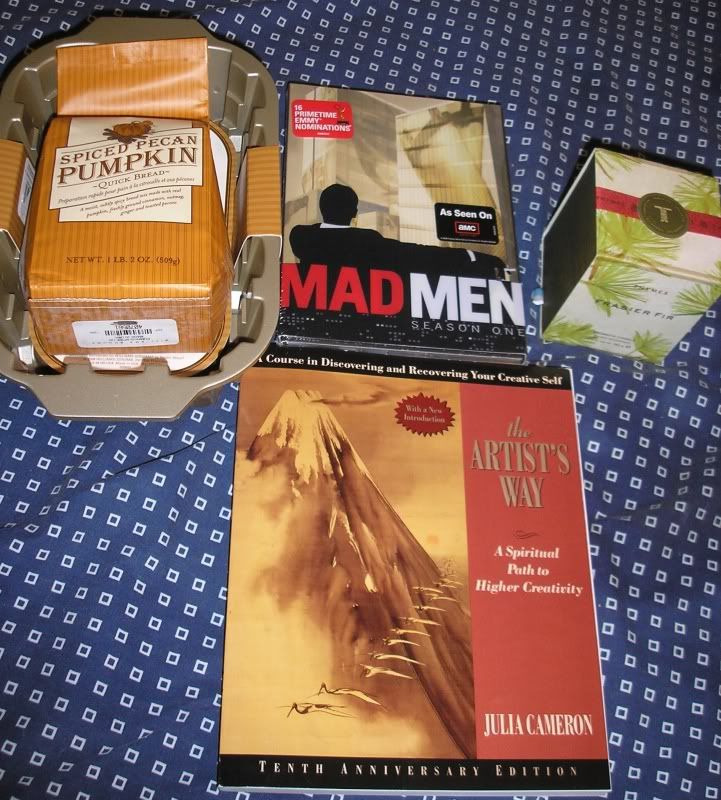 GREAT things in small packages! Damn, she is
TOTALLY
not gonna like my pack of fancy gum. But me? I have been dying to watch Mad Men, the random episodes I catch when
my TV is not stalking me
make me wonder why I'm not watching this show. I LOVE it.
AND spiced pumpkin bread with a tin to bake it in (so that's what smelled so good)...I'll be making this next week for the Holidays. Along with a candle that smelled as good as all outdoors. I would have lit it that night, 'cept I was scared I was going to pass out and burn my house down, which would have been a downer, but at least I would have had a light to read the book she gave me. Me? Creative, you think? I will let you know if it changes my life..like you say it can. I'm hoping for a sports car and winning the lottery, but I'll settle for finding my creativity.
I love all my goodies. This weekend, I'm looking forward to settling in with some good TV. Tonight I may light my candle. Bow chicka bow wow.
Thanks Anna!